Coconut Cake Batter Blondies - SUGAR FREE!!
Ingredients: 1 can chickpeas drained/rinsed, 2 scoops vanilla whey + 3/4 tbsp. golden batter cake mix ( or 2 scoops cake batter protein), 1/3 cup PB, 1/3 cup honey, 1egg, 2 egg whites, 2 tsp. vanilla or coconut extract, 1/4 tsp. baking powder, 1/2 tsp. salt, 2 tbsp. unsweetened coconut + coconut/sprinkles for topping. Mix all ingredients together in food processor/blender, spray 8x8 baking pan or line. Spread evenly in pan, top with coconut/ sprinkles, bake 20min @ 350. :)
Chocolate PB Protein Brownies -SUGAR FREE!!
Batter: 2 cups oat flour, 2 scoops chocolate whey protein, 3 tbsp PB2 powder, 1/2 cup stevia in the raw, 1tsp baking soda, 1/2c unsweetened apple sauce, 3/4c unsweetened almond milk, 4 egg whites - Mix all dry ingredients first then add in wet ingredients- mix well. - as for topping I melted 2 tbsp of PB and poured on top prior to baking. Pour in 8x8 cake pan and bake at 350 for 15 min. (Middle will not be fully cooked- removing early prevents them from drying out) Thanks to cleanitupgirl for the inspiration!
Breakfast Pita Pizza
Chicken Breast (shredded)
Parmesan Cheese (less fat than soft cheese)
I first cut the pita bread horizontally and sprayed it with olive oil, put it in the oven alone for about 5 min. at 400 degrees to get the crust crispy.
I sautéed the mushrooms, green peppers, and onion. Heated up chicken that was left over from the night prior, and scrambled the eggs.
Add all of these lovely things on the pita bread and put it back in the oven for another 5 min. at 400 degrees.
Annie's Fruit Salsa w/ Cinnamon Chips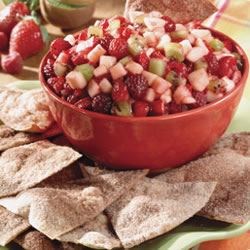 This is a great crowd pleaser, I make this when I have time... it takes a good hour or so to prepare!
2 kiwis, peeled and diced
2 Golden Delicious apples - peeled, cored and diced
2 tablespoons white sugar
3 tablespoons fruit preserves, any flavor
SOME OF THESE....
OR
-10 (10 inch) flour tortillas
-butter flavored cooking spray
-2 tablespoons cinnamon sugar
In a large bowl, thoroughly mix kiwis, Golden Delicious apples, raspberries, strawberries, white sugar, brown sugar and fruit preserves. Cover and chill in the refrigerator at least 15 minutes.

Preheat oven to 350 degrees F (175 degrees C).

Coat one side of each flour tortilla with butter flavored cooking spray. Cut into wedges and arrange in a single layer on a large baking sheet. Sprinkle wedges with desired amount of cinnamon sugar. Spray again with cooking spray.

Bake in the preheated oven 8 to 10 minutes. Repeat with any remaining tortilla wedges. Allow to cool approximately 15 minutes. Serve with chilled fruit mixture.
OUR FAVORITE GRILLING CHOW
JALAPENO POPPERS
"SNAKE BITES"
ingredients:
-15-20 jalapenos
-cream cheese
-bacon
-toothpicks
1. If you like spicy skip this step... In a large pot heat water to a boil, put all jalapenos in water for about 2minutes.
2. Rinse off the jalapenos and let cool if you went through with step 1.
3. Cut jalapeno stems off and slice all jalapenos in half long ways..
4. Fill each halved jalapeno with cream cheese
5. Cut bacon strips in half
6. Take each jalapeno and wrap bacon around and secure with a toothpick
6. Place on grill until bacon is crispy... ENJOY!!
Tip: Some soak the toothpicks prior to using as they may burn on the grill.
TOFU LASAGNA ROLL UPS
1 (16 ounce) package uncooked lasagna noodles
1 pound mozzarella cheese, shredded
1 (15 ounce) container ricotta cheese
1 pound firm tofu
1 (10 ounce) package frozen chopped spinach - thawed, drained and squeezed dry
2 cups grated Parmesan cheese
1 (28 ounce) jar pasta sauce
Bring a large pot of lightly salted water to a boil. Cook lasagna noodles for 5 to 8 minutes, or until just slightly underdone; drain and rinse.

In a large mixing bowl, mix together grated cheese, ricotta cheese, tofu, frozen spinach, and 1 cup Parmesan cheese.

Lay out a noodle. Spread a layer of the cheese mixture on the noodle, then add a thin layer of sauce. Roll the noodle up, and place seam side down in a 13x9 pan. Repeat for other noodles. Top with remaining sauce and Parmesan cheese.

Bake in a preheated 350 degree F (175 degree C) oven for 30 min, or until hot and bubbly.
credits go to allrecipes.com for this one